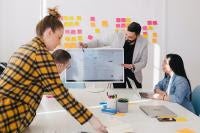 Mindful Critical Thinking
Mindful Critical Thinking is a 4 week wholly online short course that can be completed at your own pace.
Each week we provide 2-3 hours worth of core content–a combination of recorded videos, written material, guided meditations, discussion prompts and other activities.
Throughout the course there will be plenty of opportunities for engagement with our faculty experts as well as with other learners from all over the world. Mindful Critical Thinking combines practical training in critical thinking with the science of mindfulness to give you the tools to make wiser decisions.
Practising mindfulness sharpens your awareness of your own thinking and strengthens your ability to regulate emotions. These are crucial skills for effective decision making. By simultaneously honing these skills and mastering the formal features of good reasoning, you can learn to navigate your own biases, better communicate your thoughts, improve your resilience to disagreement, and, ultimately, become a wiser decision-maker.
Discounts and group concessions
M3CS supports individuals and organisations striving to create positive impact and offers concessions and group discounts to help those with limited resources. Whether you are planning a community event, conducting research, running professional development programs or providing essential support services, we understand the challenges individuals and organisations can face. That's why we encourage you to reach out to us today and explore how we can work together to meet your specific needs and create positive change.
*10% discount Early Bird registrations (offer ends two weeks before course start date)
*20% discount for Monash Staff, Monash Alumni and Students.

*25% discount for groups of 50-200

*30% discount for groups 200+

Contact m3cs@monash.edu for future dates
Mindful Critical Thinking
More Information

| | |
| --- | --- |
| Contact Name | Monash Centre for Consciousness and Contemplative Studies (M3CS) |
| Contact Email | m3cs@monash.edu |
| Website | Mindful Critical Thinking |