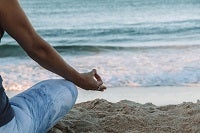 Maintaining a Mindful Life
4 week online course
Interest in mindfulness has grown enormously over the last few years. It's no surprise: mindfulness techniques can improve your communication skills, relationships and emotional health. But not everyone knows how to apply mindfulness in daily life.

Who should attend?
This course is intended for people with previous experience of practicing mindfulness and we strongly recommend completing the introductory course Mindfulness for Wellbeing and Peak Performance before doing this more advanced course.

Some practices in this course may not be suitable for people who have not previously learned and applied foundational mindfulness principles and techniques.

This course is not designed to be therapeutic for significant health problems so if you have any concerns in this regard then it is recommended that you speak to a suitably qualified health practitioner.


Discounts and group concessions
M3CS supports individuals and organisations striving to create positive impact and offers concessions and group discounts to help those with limited resources. Whether you are planning a community event, conducting research, running professional development programs or providing essential support services, we understand the challenges individuals and organisations can face. That's why we encourage you to reach out to us today and explore how we can work together to meet your specific needs and create positive change.
*20% discount for Monash Staff, Monash Alumni and Students.
*25% discount for groups of 50-200
*30% discount for groups 200+
Contact m3cs@monash.edu and let us help you.
Maintaining a Mindful Life
More Information

| | |
| --- | --- |
| Contact Name | Monash Centre for Consciousness and Contemplative Studies |
| Contact Email | m3cs@monash.edu |
| Website | Maintaining a Mindful Life |