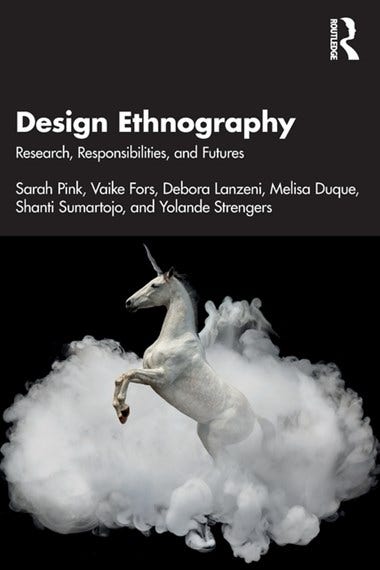 Design Ethnography - Research, Responsibilities, and Futures
This book advances the practice and theory of design ethnography. It presents a methodologically adventurous and conceptually robust approach to interventional and ethical research design,
practice and engagement.
The authors, specialising in design ethnography across the fields of anthropology, sociology, human geography, pedagogy and design research, draw on their extensive international experience of collaborating with engineers, designers, creative practitioners and specialists from other fields. They call for, and demonstrate the benefits of, ethnographic and conceptual attention to design as part of our personal and public everyday lives, society, institutions and activism.
Design Ethnography is essential reading for researchers, scholars and students seeking to reshape the way we research, live and design ethically and responsibly into yet unknown futures.
Design Ethnography- Research, Responsibilities, and Futures
More Information

| | |
| --- | --- |
| Contact Name | Bianca Vallentine |
| Contact Email | bianca.vallentine@monash.edu |