Agatha Gothe-Snape: The Outcome Is Certain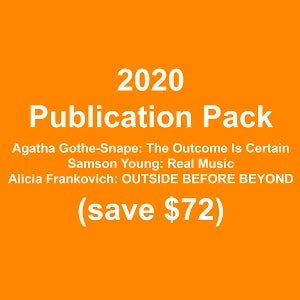 Agatha Gothe-Snape: The Outcome Is Certain
The Outcome Is Certain is the first monograph to trace the work of Sydney based artist Agatha Gothe-Snape. Published with Perimeter Editions to coincide with the major survey exhibition of the same title at Monash University Museum of Art (MUMA), the book has been designed by Sydney-based designer and artist Ella Sutherland and features newly commissioned texts by Julie Ewington, Erik Jensen, Jenn Joy and Gemma Weston and an interview between Anneke Jaspers with Gothe-Snape.
Part catalogue, part artists book, The Outcome Is Certain stays close to Gothe-Snape's prolific practice through its idiosyncratic use of colour and text. Six A4 sections conceived as manila folders enclose notation, drawings, diagrams, letters and scores, revealing aspects of her working processes. Essays by Australian and international curators and writers reflect on core ideas and influences-among others: art history, text and language, collaboration, choreographic thinking and the role of chance and intuition.
172 pages, softcover, 29.7 x 23.5 cm, colour, ota-bound
Texts: Julie Ewington, Anneke Jaspers, Erik Jensen, Jenn Joy, Hannah Mathews and Gemma Weston
Foreword: Charlotte Day
Editors: Hannah Mathews and Melissa Ratliff
Design: Ella Sutherland
Edition: 600
Year: 2020
ISBN: 978-0-6486801-3-0
Published by: MUMA and Perimeter Editions
Distribution: International (by Perimeter to Australia and New Zealand, and via Idea Books to Europe, UK, North America, Asia)
The publication was supported by the Gordon Darling Foundation.

Publication photography courtesy of Perimeter Editions
More Information

| | |
| --- | --- |
| ISBN | 9780648680130 |
| Contact Name | MUMA |
| Contact Email | muma@monash.edu |
| Contact Phone | +61 3 9905 4217 |