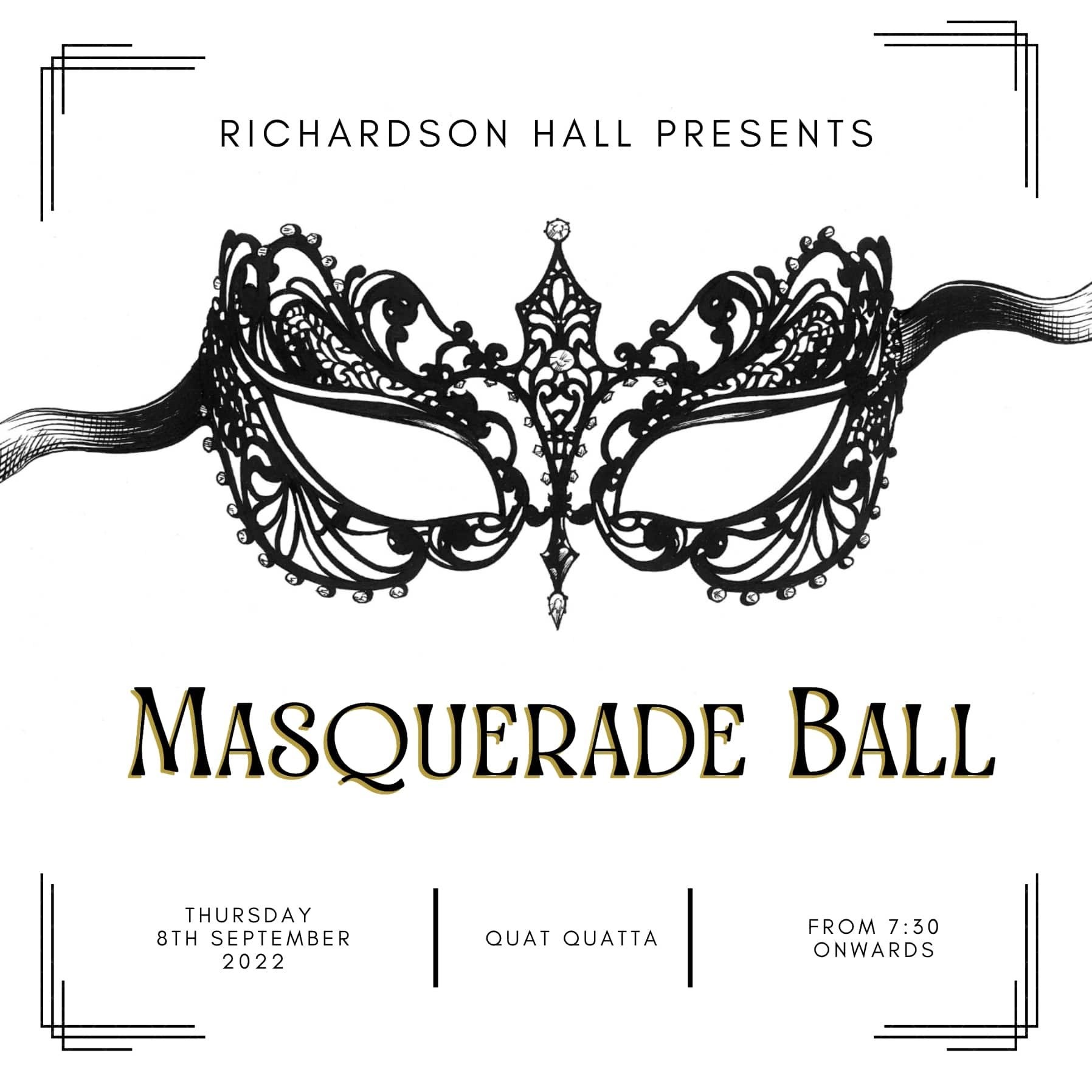 Richardson Hall Masquerade Ball 2022
Enjoy a night with Richardson residents at the event of the year!
Your ticket will provide:
2 course meal
Bar service (provision of alcohol dictated by ticket type and age)
Photographer
DJ
Bus Travel to and from event (Buses depart Dinosaur Drive at 6:45pm, Buses depart venue at 11:15pm)
Guests of Richardson Residents are welcome to attend accompanying one of our current residents. They will be required to purchase a guest ticket ($110) and must be over the age of 18.
Attendees will be checked against the list of current residents and entry to the venue will be conditional to the appropriate ticket type being purchased and all guests being escorted by a current resident (max one guest per resident).
Table allocations and preferences will be available via a Google Form for the duration of the sales period. Further details will be released shortly.
If paying in two installments, both payments must be processed by the 21st of August. Failure to complete both payments by this deadline may result in forfeit of the ticket.
When
Thursday the 8th of September 2022
Where
17 Quat Quatta Avenue
Ripponlea
TERMS & CONDITIONS OF SALE
Monash University acting through the Richardson Hall, Monash Residential Services (MRS) is inviting Richardson MRS residents to the 2022, Richardson Hall 'Masquerade' Ball
Subject to these terms and conditions, the Ball will be held on Thursday the 8th of September, 2022 at Quat Quatta, 17 Quat Quatta Avenue, Ripponlea. The Ball will run from 7:30pm to 11pm.
ELIGIBILITY
Tickets are available to Richardson Hall MRS residents (Residents) and only Residents can attend this Ball.
Residents under the age of 18 are welcome to attend this Ball provided that they get approval from their parent/guardian before purchasing their ticket. Please note, the legal drinking age in Victoria is 18 years. It is illegal for any person to supply alcohol to a minor on licensed premises. It is also illegal for a minor on licensed premises to purchase, receive or consume alcohol.
PRICE
The ticket prices are as follows:
● $105: Resident Dinner and Beverage Package (Beverages include beer, wine, orange juice and soft drink only); and
● $95: Resident Dinner Package (including soft drink, orange juice and water only)
● $110 non-Richardson Resident* Dinner and Beverage Package (Beverages include beer, wine, orange juice and soft drink only);
* A non-Richardson Resident refers to anyone who does not reside in Richardson at the time of the Ball. A non-Richardson Resident must be over the age of 18 at the date of the Ball.
Wristbands will be provided and must be worn at the Venue on the night of the Ball to indicate the different ticket packages. Venue staff may also request to view a wristband prior to serving a Resident or guest.
TICKET SALES
Tickets will be on sale from 9am on Monday the 18th of July to 11:59pm on Sunday the 21st of August. Ticket sales will be audited and if a Resident is found to have purchased a ticket in an incorrect category, they will be required to forfeit their ticket with no refund.
Tickets will be sold online through MonashShop. Residents must complete the ticket form including personal information and may be required to provide proof of student and residency status. Tickets will be sent to the email address of the Resident provided at the time of purchase. It is the Residents' responsibility to ensure they check their email accounts (including any spam or junk folders) for their ticket and other relevant information relating to the Ball. Monash will not be responsible for any incomplete or incorrect information provided at the time of purchase which results in a lost or misdirected ticket. By purchasing a ticket, Residents agree to these terms and conditions.
Residents can purchase a maximum of two tickets; one for themselves, plus an additional one ticket for a non-Richardson guest. Guests must be over the age of 18 and must hold a non-Richardson ticket. All tickets purchased must be under the Resident's name and the name of their guest.
Residents are responsible for all actions of their guest and by purchasing a guest ticket, they are agreeing to the terms and conditions on behalf of their guest.
Tickets are sold on a first-come, first-served basis and the allocated number of available tickets may be exhausted at any time.
If a Resident would like to attend this Ball but is experiencing financial difficulty, they may contact their College Head.
CANCELLATION & REFUND POLICY
All ticket sales are final and no refunds will be offered on tickets.
A Resident ticket may be transferred to another Richardson Resident. Richardson Residential Support Team Officers must be notified of the change of name and dietary information within 24 hours of transfer, via email to khalia.barker@monash.edu
Ticket transfers that involve a change in dietary requirements cannot occur after 28th August, 2022.
Monash reserves the right to cancel, postpone or modify the Ball at any time for any reason and amend or vary these terms and conditions at any time including due to COVID-19 and associated Government orders, directions or regulations. If the Ball is cancelled because of an event beyond the reasonable control of Monash (including a Government order, restriction or directive), Residents may not be eligible to receive a refund. If there is a restriction on the number of persons permitted to be in or around the Venue, Monash may reduce the number of persons who may attend the Ball in which case you may be eligible to receive a refund.
INCLUSIONS
Ticket price includes a 2 course meal and drinks, DJ and Photographer as provided by the Venue.
Ticket price includes a chartered bus from Richardson Hall to the Venue and return to Richardson Hall upon conclusion of the Ball. Intoxicated Residents or alcohol will not be allowed on a bus to or from the Venue. Details about pick up and drop off times and locations will be communicated to Residents in the lead up to the Ball. In accordance with COVID-19 guidelines and the bus company's policy, all Residents must follow regulations regarding mask wearing as applicable on the date of the ball
Residents that do not travel to and from the Venue via the provided buses do so at their own risk and responsibility.
DIETARY REQUIREMENTS
Special dietary requirement information must be provided in the given form at the time of ticket purchase.
SEATING
Seating will be at tables of 8 - 10 people.
Monash reserves the right to change seating allocations and/or change any standing or seating configurations for attendance at the Ball at any time or if required by Government directions, orders or regulations.
OTHER CONSIDERATIONS
You agree to comply with all Government directions, orders and regulations relevant to attending the Ball, which may be in place at the time of the Ball and must conduct yourself in a manner consistent with the prevention of the spread of COVID-19. If at the time of the Ball you are feeling unwell or are subject to a self-quarantine or self-isolation period, you agree not to attend the Ball. Please contact your hall Residential Support Team Officers to advise if this occurs.
If you have any special access requirements or concerns about any special effects (e.g. lighting, sound, audio-visual or pyrotechnic effects) which may be featured at the Ball, please discuss any such issues before purchasing a ticket with your Residential Support Team Officers. Monash will use reasonable efforts to assist with any such special access requirements or concerns.
The Venue reserves the right to reduce or refuse alcohol service as per the Victorian Government's Responsible Service Alcohol guidelines. The Venue's staff are instructed not to serve any alcoholic beverages to Residents under the age of 18 years, or to Residents in a state of intoxication. The Venue management and Monash reserve the right to exclude or eject any Residents from the Ball or the Venue.
You shall not bring any food or drink on the bus or into the Venue (unless you have advised and received approval from Khalia Barker, College Head, Richardson Hall prior to the Ball).
You must comply with any and all instructions given to you by the Venue and Monash who reserve the right to restrict access to parts of the Venue.
You must not leave any bags or other items of personal property unattended in the Venue or on the bus. Monash is not responsible for any lost items.
Monash accepts no responsibility and shall not be held legally liable or responsible for any accident, loss, injury or damage to any individual or property whether direct or indirect, whether in contract, tort, negligence or otherwise arising out of or in connection with the Ball, either during or after the Ball including during transportation to and from the Venue.
PRIVACY
Residents' personal information may be collected by Monash, and may be disclosed to Monash's contractors and agents (including without limitation the Venue and transportation companies, information technology providers and database service providers) to organise, manage and conduct the Ball. If Resident does not provide the personal information requested by Monash, or it is inaccurate or incomplete, Monash may determine that the Resident is ineligible to attend the Ball. Residents can request access to their personal information by contacting Monash on 03 9902 9589. Monash's privacy policy is available at www.privacy.monash.edu.au/.
MRS CONDITIONS OF RESIDENCY & ALCOHOL POLICY
29. The MRS Conditions of Residency and Alcohol Policy apply during this Ball.
30. The Monash University Alcohol Risk Management Procedure applies during this Ball.
Richardson Hall - Masquerade Ball 2022
Don't miss out on the Richardson Hall event of the year – The Richardson Hall Masquerade Ball on Thursday the 8th of September at the iconic Melbourne venue, Quat Quatta.
More Information

| | |
| --- | --- |
| Contact Name | Khalia Barker |
| Contact Email | Khalia.barker@monash.edu |