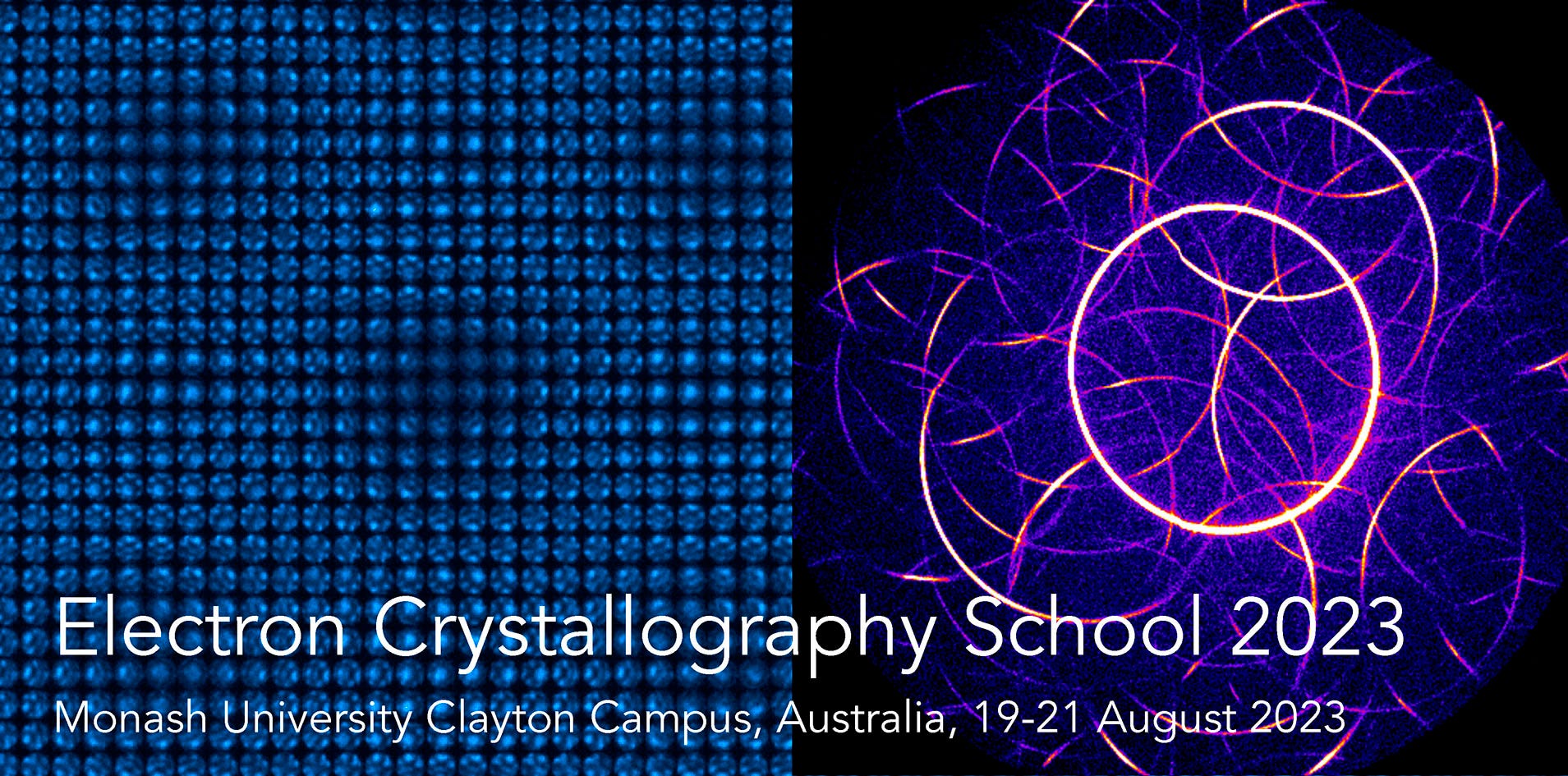 IUCr Electron Crystallography School 2023
19-21 August 2023, Monash University Clayton Campus
The Electron Crystallography School 2023 will be a satellite event to the 26th International Union of Crystallography (IUCr) Congress in Melbourne (22-29 August 2023). This is also a Microscopy Australia Masterclass.
Electron crystallography has seen revolutionary advances in recent times, from protein nano-crystallography to mapping of materials structure at the pico-scale. The main aim of the Electron Crystallography School (ECS2023) will be to educate postgraduate students and early career researchers about the latest progress in electron crystallography. ECS2023 will focus on two broad topics: 4D-scanning transmission electron microscopy and micro-electron diffraction.
Please check the School's website for more detail.
Registration Options:
· Full Registration for Delegates: AUD $165 (incl. GST)
· Invited Speaker Registration: free
Registration Deadline: 15 June 2023
Full Registration includes meals (3 lunches & 2 dinners), morning & afternoon tea, bus between Melbourne City and Monash University.
There is a strict limit of 40 delegates (not including speakers).
Students and Early Career Researchers will be considered for bursaries.
Delegates should indicate whether they wish to contribute a poster presentation. The abstract should be sent to laure.bourgeois@monash.edu. Abstract format: 1 page maximum, 100 words minimum.
When:
Saturday 19 – Monday 21 August 2023
Where:
Northern Pavilion
28 Scenic Boulevard
Monash University Clayton Campus, Victoria 3800
Terms & Conditions:
Registration cancellation will not be refunded for change of mind. For registration substitution to another person, please contact the School organisers.
IUCr Electron Crystallography School 2023
More Information

| | |
| --- | --- |
| Contact Name | Associate Professor Laure Bourgeois |
| Contact Email | laure.bourgeois@monash.edu |
| Contact Phone | +61-3-99055368 |