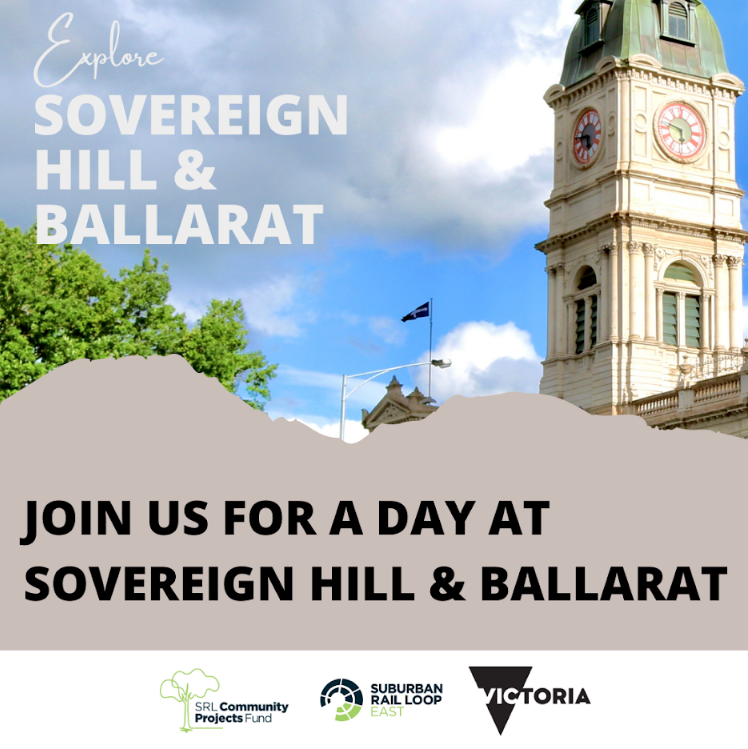 Explore Sovereign Hill | MRS & SRL
This page allows waitlisted residents who have been previously authorised to join this tour to purchase their ticket. Purchasing a ticket through this page does not reserve a place on the tour, and any unauthorised ticket purchases will be invalid.
Monash Residential Services (MRS) is supporting our residential community access and experience some of Victoria's iconic natural and heritage destinations. Our Explore Victoria Excursions offer subsidised entry fees and transport fares for residents to explore Sovereign Hill.

These excursions are an opportunity to facilitate social connection between new community members and existing residents, and between students from international and domestic backgrounds.

To learn more about the different day trips we have planned, check out our website for more information including registration.

Itinerary
7.15am: Arrive at meet-up point (Bus Stop Outside Turner Hall)
7.45am : Depart from Monash
9.30am: City Sights Tour by a Historian
10.45am: Visit and Explore Sovereign Hill Ballarat
1.00pm: Lunch
TBD: Tour of the Sovereign Hill Ballarat Underground Mine
5.00 pm: Depart from Ballarat
6.00 pm: Arrive at Monash
Includes: Transportation, Tickets to venues, Lunch
Instructions: Save invoice and show to staff on day of trip


Please note that the scheduled itinerary is subject to change due to factors beyond our control.
This project received funding from the Victorian Government through the SRL Community Projects Fund. This trip is for MRS Residents only
Waitlist - Explore Sovereign Hill | MRS & SRL
For current residents of Monash Residential Services only