2019 Australian Mangrove and Saltmarsh Network Conference: Wetlands of the Future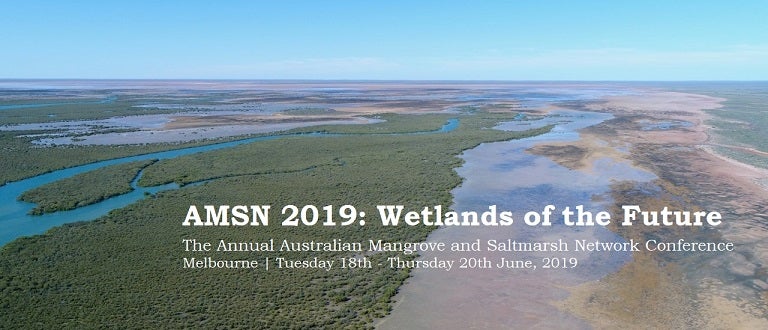 2019 AMSN Conference: Wetlands of the Future Focus Meeting of the Estuarine and Coastal Sciences Association
Registration for AMSN 2019 is essential and will remain open throughout the event. Abstract submission for this event is now closed. Hosted in Melbourne, Victoria over three days, AMSN 2019 offers catered formal and informal events including plenary talks, student prizes, oral and poster presentation sessions, as well as a conference dinner and field trip. Students are strongly encouraged to attend. Please note, AMSN membership is encouraged, but not required for registration.
When: Tuesday 18 – Thursday 20 June 2019
Where: Rm G60, 9 Rainforest Walk, Monash University, Clayton Campus + Conference Field Trip 20th June (Corner Inlet)
Cost: Please see registration price items (top right).
Note: only a limited number of Conference Dinner registrations are available - register now to secure your seat.
Event Schedule
DAY 1 - Tues 18th June

9:00 - 11:10

Session 1: Blue Carbon

Speaker (* Student)

9:00

Opening

Ruth Reef

9:15

Plenary 1: Are we underestimating Blue Carbon sequestration rates?

Isaac R. Santos

9:55

Accommodation space controls coastal wetland adaptation to sea-level rise and carbon storage

Kerrylee Rogers

10:10

Modelling future sea level and human impacts on coastal wetlands and their carbon sequestration capacity

Jose Rodriguez

10:25

It's time to stop playing in the mud – tidal carbon exchange is where blue carbon science needs to focus

Damien Maher

10:40

Quantifying the vulnerability of blue carbon in temperate wetlands to becoming a source of atmospheric CO2

*Christina Asanopoulos

10:55

Thirty-year repeat measures of mangrove above- and below-ground biomass reveals unexpectedly high carbon

sequestration.

Neil Saintilan

11:10 -

11:35

Morning Tea
11:35 - 12:50

Session 2: Blue Carbon (cont.)

11:35

Microbial decomposition in Australian wetland ecosystems

Stacey Trevathan-Tackett

11:50

The potential contribution of Indonesia Papua mangroves blue carbon to national emission reduction targets

*Sigit Sasmito

12:05

Rehabilitating mangroves and their carbon sequestration capacity

Paul Carnell

12:20

Quantum and distribution of Blue Carbon stocks of Tasmanian coastal saltmarshes

*John Aalders

12:35

Considerations for the use of stable isotope analysis in coastal carbon studies

Jeff Kelleway

12:50 -

13:30

Lunch
13:30 - 14:45

Session 3: Dieback and Biogeography

13:30

Ongoing threats, damaging processes and longer term consequences associated with the 2015 dieback of

mangroves in northern Australia's Gulf of Carpentaria

Norman Duke

13:45

Baseline for monitoring mangrove dieback trajectory in the Gulf of Carpentaria

Arnon Accad

14:00

Assessing the distribution and drivers of mangrove dieback in Kakadu National Park, northern Australia

Emma Asbridge

14:15

March of the mangroves: drivers of encroachment into southern temperate saltmarsh

*Ashley Whitt

14:30

Planning for the future, Derwent Estuary saltmarsh management

Inger Visby

14:45 -

15:45

Break + session 4: posters
15:45 - 17:30

Session 5: Fisheries and Society

15:45

Fish use of vegetated saltmarsh flats – gaps, methods and opportunities

*Violet Harrison-Day

16:00

The key role of saltmarsh in supporting fishery food webs in central Queensland

*Kristin Jinks

16:15

Stable isotopes indicate significant saltmarsh provisioning for two commercially important penaied species in

a temperate NSW estuary

Tim Smith

16:30

Utilisation of a recovering wetland by a commercially important species of penaeid shrimp

Troy Gaston

16:45

Should environmental scientists engage in public advocacy to help conserve coastal wetlands?

Paul Boon

17:00

Communities of practice- the new buzzword

Simon Rowe

17:15 -

18:15

Networking Session
DAY 2 - Wed 19th Jun

9:00 - 11:00

Session 6: Restoration

9:00

Plenary 2: Threats, opportunities and challenges for coastal wetland conservation

Catherine Lovelock

9:45

Experimental saltmarsh restoration in the Hunter River: vegetation findings two years on

*Caleb Rankin

10:00

Saltmarsh renovation in the highly urbanised Georges River Estuary

David Reid

10:15

Integrating the ecosystem services paradigm into environmental law: a mechanism to protect wetlands?

Justine Bell-James

10:30

Investigating the social-ecological trade-offs between removing and preserving mangroves in Aotearoa, New

Zealand

*Amrit Dencer-Brown

10:45

Valuing mangrove and saltmarsh ecosystems

Peter Macreadie

11:00 -

11:20

Morning Tea
11:20 - 13:20

Session 7: Physical Environments

11:35

Hydrodynamic and biophysical forcings of sediment deposition in marshes

Ruth Reef

11:50

Wetland zonation and inundation regimes in microtidal estuaries

Michael Hughes

12:05

A field study on wave attenuation by coastal wetlands in Victoria

*Jaya Kelvin

12:20

A thousand years in the making: old grey mangroves in Moreton Bay

Ralph Dowling

12:35

The role of saltmarshes to improve economic, social and environmental outcomes in a prawn fishery

Ian Cresswell

12:50

Inventory and planning overlays for conserving current and future coastal saltmarshes: a Tasmanian case

study

Vishnu Prahalad

13:05

Coastal wetlands to mitigate nitrogen pollution in the Great Barrier Reef catchments

Fernanda Adame

13:20 -

14:00

Lunch
14:00 - 15:00

AMSN General Meeting

Norm Duke

15:00 - 16:00

Break + Poster Session (student award deliberation)

16:00 - 16:30

Awards and Closing Comments

Ruth Reef

18:30 - 10:30

Conference Dinner

Trunk
DAY 3 - Thurs 20th June

Field Trip

Corner Inlet

7:00

Meet at Monash University, Clayton

18:30

Return to Monash University, Clayton
Information for Presenters
Please note your session day and time in the above schedule, and provide your hardcopy poster or electronic presentation to AMSN staff at least 30 minutes prior to your session.
Abstract submission is now closed.
Please follow the guidelines for abstract preparation as indicated in the attached template. All abstracts are subject to acceptance and minor editing (grammar, formatting, etc.) at the discretion of event organisers. Download Abstract Template
Information for Students
Students may register at a reduced cost. Please register using your current student email account and submit a copy of your valid student identification card to AMSN.Conference2019@gmail.com. Prizes will be awarded for Best Student Presentation in both poster and oral presentation categories (Note: presentations to be judged on a strictly opt-in basis. To be in the running, please submit your preference with your abstract).
Further Information
Australian Mangrove and Saltmarsh Network is an independent network for organisations and individuals concerned with mangrove and saltmarsh tidal wetlands, particularly around Australia. The network hosts a diverse and growing membership; including those involved in policy and legislature around wetland management, environmental consultants, professional researchers, industry officers, and community representatives. AMSN 2019: Wetlands of the Future offers an ideal opportunity to broaden your coastal wetland, estuarine and environmental sciences network.
The AMSN 2019 conference theme 'Wetlands of the Future' directs our focus to the response of wetlands to global change, the continuing heavy losses of wetlands globally, and recent conservation and restoration efforts. We also address the significant role wetlands play in the mitigation of climate change and sea level rise impacts, such as through reducing greenhouse gas emissions, and through coastal defence. We strive to understand and address the extensive environmental and economic costs caused by wetland loss and the complex issues faced by conservation and rehabilitation efforts across an array of coastal wetland settings. Through exploring new practices and frontier research around the characterisation, development and management of coastal wetlands, we can better understand the role of these globally important and uniquely beautiful environments.
Accommodation
There are many hotels, motels, hostels and AirBnB house stay options available throughout the Melbourne CBD and eastern suburbs. We encourage you to search around online to find an arrangement that best suits your personal needs.
Guests of Monash University may find it convenient to stay at the university's guest house, Gryphon House:
http://www.mannix.monash.edu/gryphon-house/#1537760685092-20884195-2108
or at the nearby Campus or Quest accommodation: http://www.campusclayton.com/ https://www.questapartments.com.au/properties/vic/notting-hill/quest-notting-hill/hotel-rooms#147092
Getting to Monash Uni Clayton
For full details on getting to and around campus please visit https://www.monash.edu/people/transport-parking
Taxis leave from a ranks at Melbourne Airport, costing ~$120 for a fare to Monash University's Clayton Campus. Please note rates are highly variable depending time of travel and subject to traffic conditions. 
The Sky Bus runs from multiple locations at Melbourne Airport to Southern Cross Station in Melbourne's CBD. Sky Bus tickets can be purchased at the time of travel (look for the red ticketbox outside the front of your terminal), and are available for a lower cost if pre-purchased online https://www.skybus.com.au/melbourne-city-express/fares/
From Southern Cross Station the Cranbourne/Pakenham line (Platform 10) train runs to Huntingdale Station. 
From Flinders Street Station the Cranbourne/Pakenham/Westall line (Platforms 6 and 7) train runs to Huntingdale Station.
The 601 shuttle bus service operates between Monash University and Huntingdale Station every 4 minutes and it is the best way to access the campus via public transport. Please note that the use of public transport within the Melbourne Metro service network requires a Myki card. Myki cards can be purchased at all train stations for $6. See https://www.ptv.vic.gov.au/tickets/myki for more information and to use Public Transport Victoria's 'Journey Planner' app.

For further information, or if you have any questions at all please contact the organising committee at AMSN.Conference2019@gmail.com

We look forward to seeing you in Melbourne!
This event is proudly hosted by Monash University's School of Earth Atmosphere and Environment on behalf of the Australian Mangrove and Saltmarsh Network, and is an official Focus Meeting of the Estuarine and Coastal Sciences Association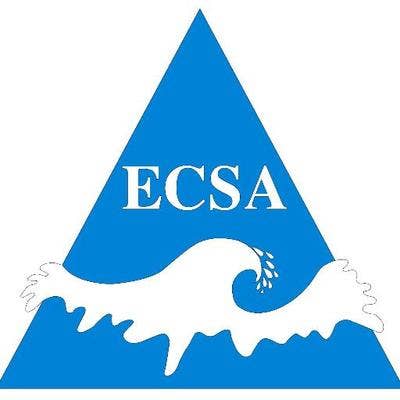 More Information

| | |
| --- | --- |
| Contact Name | Conference Secretariat |
| Contact Email | AMSN.Conference2019@gmail.com |